---
3-D Earrings - Rectangular

These tiny 3-D's are cut from oak and lacquered by our master woodcrafter, JP. They're a perfect miniature (1.25" tall) of the ornaments we offer. We have only rectangular earrings available at the moment.
Wouldn't they make a clever and affordable gift for some greyhound owner?

Price: $45.00
---
8Ball Earrings

First offered over 5 years ago, 8Ball remains one of our most popular designs, and comes in 4 sizes. Here he is in his original size as earrings.
Price: $70.00
---
CJ Set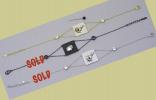 This clever pendant of wood and acrylic by Christine Jones has a matching set of earrings- sold as a set only. The chain measures 20".
Price: $115.00
---
GF: Little Red Earrings

Similar to the lavender earrings in the necklace set and could be worn in their stead for additional color.

Price: $70.00
---
Studs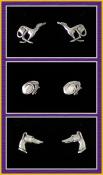 Not greyhound studs- earring studs! Brynn, the widest of the three, measures a little more than half an inch in width.
Brynn is temporarily out of stock, but has been ordered.
Price: $40.00
---
Wave Ring, Blue Stone

Marta Howell, who creates these rings, calls this stone "Swiss London Blue". It is abalone, of course, and adjustable.

Price: $130.00
---
Wave Ring: Spiny Oyster

Spiny Oyster is always more costly than Marta Howell's paua shell and abalone jewels. The natural color is so beautiful that any added stone would just seem superfluous.

Price: $130.00
---